Since PRECISIONscientia's inception in 2002, we've been wholly dedicated to translating the science behind novel pharmaceutical therapies into stories that inspire and drive decision-making among health care practitioners (HCPs.) You're likely to find our team digging into data, finding vital points in research, and offering fresh solutions to convey medical information in a meaningful and engaging way.
This hasn't changed. Except, now, our team delivers on our promise from the comfort of home. After two years of testing out our new "offices," we can confidently say that our formula for remote work is effective at not only helping pharmaceutical companies change outcomes in patient care, but employees' wellbeing also. Our team has analyzed their experience and processes to share some of our secrets to remote success.
NAME: JOE DOCIMO
TITLE: SENIOR DESIGNER I
YEARS WITH SCIENTIA: 3 YEARS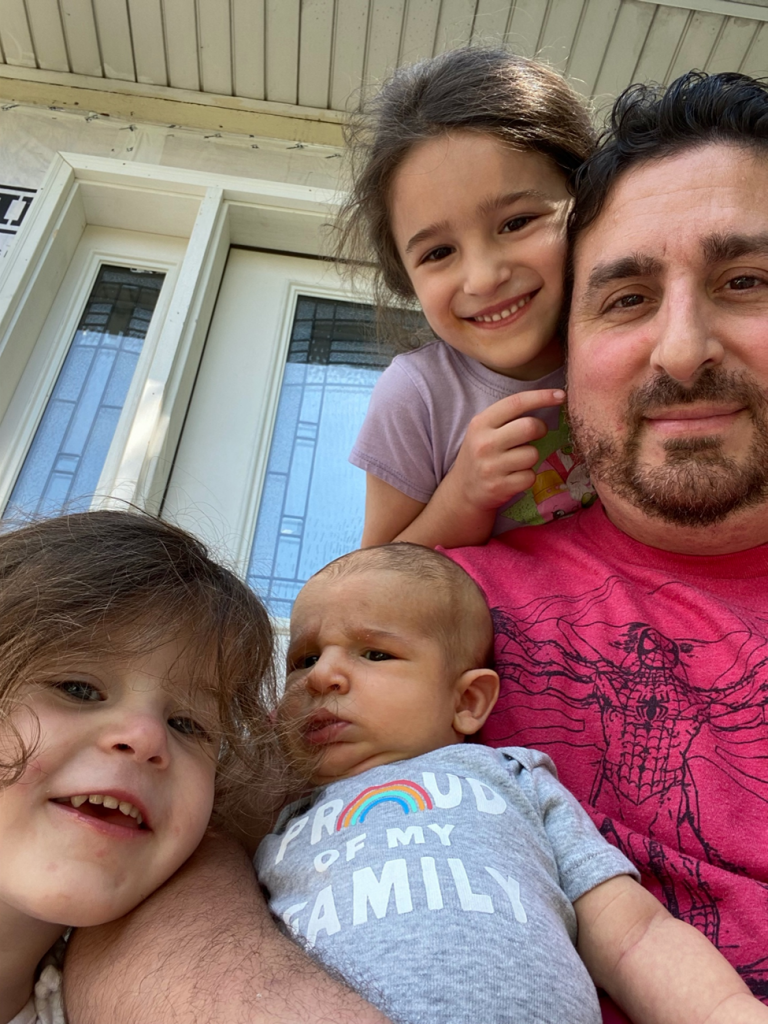 I love working remotely. I sat in traffic for 10 plus years prior and, with three kids at home, that time wasted in the car was time that could have been spent with them. In the mornings now, I get to take my kids to school and pick them up – something I love doing while they're young. During the week, I walk out of my office and sit right down to dinner with my family after the workday is done.
It's not just the added time with family that I love. Since working from home, I've found that I have been able to focus more on the work than I was previously at the office. Because of that, I have produced some of my best work. I have to admit, I was surprised at how well PRECISIONscientia has worked throughout the pandemic. We didn't miss a beat and continue to produce amazing work for our clients. I attribute this to our team's talent, company culture, but also the ability to work in a way that suits our individual processes.
While working from home, we were able to complete a major renovation to our home. Now, I have a designated office space that also serves as a pseudo music "studio" and home to my guitars. When I get into a creative rut, I take 10-15 minutes, pick up one of my guitars, and noodle on it for a bit. Writing something on a guitar is no different than doing a layout or designing a new template. It gets my brain moving in a creative way. My one tip for others looking to find success working remote? Once you shut the computer down, shut off your work brain. It took me a bit to get there but now, once I get all my work done and know I am okay for the night, I close the computer and go relax with my family. It's easy to keep working since we are home, and the computer is right there, but work life balance is very important. So go be with family, watch TV, and recharge for the next day
NAME: PATRICIA SOLIS
TITLE: SENIOR PRODUCTION ARTIST
YEARS WITH SCIENTIA: 3 YEARS
Working remotely has been one of the best things that has happened to me. It has enabled me to be more present for my family and balance my life in a much healthier way. I'm even saving money in gas and wear and tear on my car!
My favorite thing about working from home is the flexibility. It's surprising how much more work you can get accomplished when you are working remotely. There are far fewer distractions. I can adjust my working hours based on my workload and priorities. I have more control over my schedule and life simply by not having to be in a traditional office setting. Working remotely has been a blessing!
NAME: VERONICA CASINA HARPER
TITLE: SCIENTIFIC DIRECTOR
YEARS WITH SCIENTIA: 5 YEARS
After two years of working remotely, I must admit I am surprised by how much I like it. I'm a "people person" and, undoubtedly, miss my coworkers. But, at the end of the day, I have so much more flexibility in my schedule. Time I spent getting ready in the morning and commuting can now be spent with my family, which has given me much peace of mind.
I had my daughter in February 2020, a few weeks before the pandemic shut down our offices. I have been able to watch my daughter grow and reach milestones I may have missed if I was in the office every day. Instead, I can walk out of my "office" and see my daughter and husband. They also visit me in my "office" sometimes. I've even been able to pick up knitting as a result of remote work. It is rewarding, helps me decompress, and is easy to pick up when I need a break from work and my computer.
As an organization, remote work was a smooth transition, but I do believe that, for me, it helped to have 1:1 check-ins with colleagues. I also believe that it's important to individual and organizational wellbeing for everyone to dedicate some time to themselves throughout the day; Use your lunch break or block time on your calendar to step away for a moment. Finding time to refresh and refocus for 20-30 minutes helps fuel my productivity.
It has been difficult to stay positive at times during the ongoing pandemic, but remote work has been a silver lining for me during this challenging time.
Proven Results
Every day, whether from home or in the office, we bring our energy and passion to improving patients' lives. From translating science to creating captivating medical materials, our work helps advance developments at the forefront of medicine. If you're interested in a medical communications career that promotes flexibility, autonomy, and collaboration, we invite you to explore our open roles.
Explore a day in the life of a Senior Scientific Director
Explore a day in the life of a Scientific Director
Explore a day in the life of a Strategic Account Manager
Explore a day in the life of a Program Manager